After putting the kids to bed I settled down to relax with my bag of popcorn and do some Pinterest browsing. First I started looking for ideas on organizing my pantry, which caused me to pretty much want to blow out a wall of my kitchen and add on a butler's pantry. Which would be fitting since I'm technically a Butler, BUT I'm pretty sure that is project #67 on the priority list. So then came a major chocolate craving, I neeeeeded something chocolate.  A few of the things that crossed my mind to grab in the house: M+M's, little kitkats or twix bars, dove chocolate pieces….eh I wanted something voluminous and low calorie so I could enjoy more than 2 seconds of chocolate heaven. A few of the yummy treats I came across while searching for "healthy chocolate", haha…
Yea, that's going in my recipe box, drool. But definitely couldn't make it tonight, I needed something QUICK!
Chocolate Chocolate Chocolate Mousse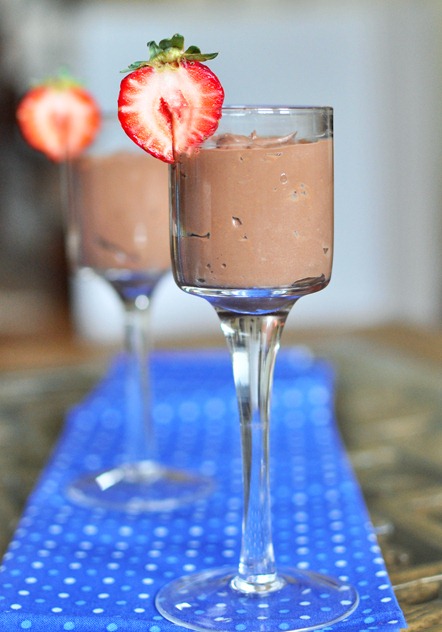 Again, someday, but tonight I do not have tofu in my pantry.  I've tried some of Katie's recipe's, she's definitely got a gift!
Double Chocolate Brownie Batter Pancakes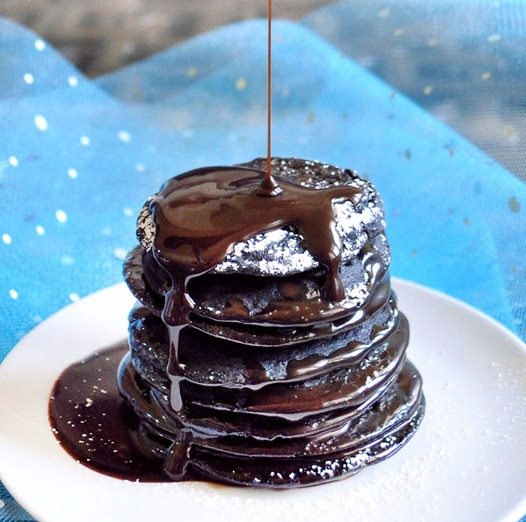 I'm sorry, this isn't making you hungry it is? Another of Katie's creations, but definitely way too filling for 10 p.m. I needed something sorta cold, refreshing, lite…so I just headed to the kitchen to find some inpiration.
And this is what I came back to my room with. A delicious, mega chocolately, creamy, refreshing, smoothie. All for 60ish calories, give or take a few. I used our baby blender so I wouldn't wake the children, that would be bad.
60ish Calorie Mega Chocolate Smoothie
8 ice cubes
1 cup unsweetened almond milk
2 Tbsp. dark cocoa powder
2 packets stevia
1 tsp. powdered peanut butter (optional)
1/2 tsp. Guar Gum (for thickening purposes)
1 dropper full of ORANGE NuNaturals STEVIA
Directions:
Blend all ingredients together until smooth.
The Disaster part came when I blended everything up, tried a spoonful and decided it needed more stevia.  I was just going to use some of my plain liquid stevia, but accidently grabbed my ORANGE flavored stevia and just squirt a bunch of it in, after I noticed what I did and an "oh SH*T" , I pretty much prayed it would still be good, I wanted chocolate not orange afterall.  Thankfully, the taste was SPOT on, AMAZING. I will definitely accidently grab the orange stevia for this in the very very near future.
Ah, now it's gone, I'm full, my chocolate craving is all gone, and I'm ready for bed.