Happy Wednesday! I'm sorry I haven't been posting much, or have I already said that? I am amazed how some bloggers out there have such awesome sites when they have kids, especially a lot of them. By the time mine are in bed all I've been wanting to do is surf pinterest for design ideas and of course food inspiration.
As the many ideas, and I mean many many many ideas I have floating through my head continue to just float around in there until I figure out some kind of routine for posting, let's just reunite with a little What I ate Wednesday.
I have no idea what the current theme is, but I do have some food for you, and I guess that's all that really matters today.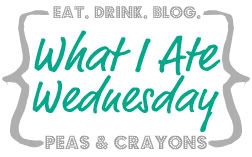 Over the last week I've been snacking on some Easy Energy Bites that Michelle of EatMoveBalance created, I'm really surprised I still have a few laying around, the first two days I had them I couldn't stop eating them, so I boxed them up and put them in the downstairs freezer for a special treat that would take more effort to get too, haha.
Even Ben tried one, coconut and all! (He's not a fan of coconut, but I've been surprised lately that he's been trying things I make with it in, since I LOVE MY COCONUT!) If you love no bake energy bites that are portable and great for a quick snack when you don't have time to whip up something healthy, I recommend having some of these in your fridge (or freezer far away downstairs).
I replaced my mixer with our juicer to switch it up a little in my diet, I snack a lot so having this on the counter and easily accessible makes it great to replace one of my many snacks of cottage cheese and yogurt with something even healthier! This particular glass had a whole cucumber and a whole gala apple, with some orange stevia, and ice! So refreshing.
I cracked open a can of pumpkin the other day when I had a craving for well pumpkin, to make this yummy pumpkin oatmeal.  Topped with pumpkin seeds, coconut flakes, dried cranberries, and some soy milk.
The can of pumpkin continued to get used with a batch of pumpkin spice chocolate chip cookies (skinnytaste) for my mom.
Then I got a little creative and make some raw carrot-cake pumpkin bars, I know weird, but good. Even the boys each had one!
This was them pre-cut, I think they may be recipe worthy sometime soon, I would have sooner but I ate them all before giving them a formal photo shoot.
Now for the star of the day, Raw oatmeal! I started reading about a raw foods diet a few months back and of course I was more concerned about how people that eat raw were able to have "oatmeal", since most oatmeal I eat is cooked, with occasional overnight oats thrown in from time to time (which I love!) and if I'd ever consider trying going raw, I'd still need my oatmeal.
I did a little research and got some ideas, I don't have a fully RAW stocked pantry since I still eat most of my food cooked, so I did what I could with what I had on hand. 
Some people who eat a raw diet make their own milks, homemade raw almond milk, or cashew milk are two of the favorites. I would like to try to make my own sometime soon.  I just used water, since water I had, and water is raw, haha. (See, that was easy)
I soaked 1/4 cup steel cut oats in about 3/4 water over night.
In the morning I drained most of the water, left just a little extra, maybe a tablespoon at most.
Put the oats in a small food processor along with about 1 tsp raw protein powder, cinnamon, and stevia. Oh and about 1 tsp of chia seeds as well.
Poured the raw oat mixture into a bowl and then topped with some sliced strawberries, raw sunflower seeds, and flaked coconut!
IT. WAS. DIVINE.
A little chewy, obviously, but the soaking makes the oats edible. And processing them makes them a tad smaller. 
Looks just like cooked oatmeal! LOVE.